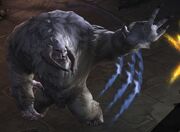 Yeti (named Glacial Monstrosities or Glacial Colossi in game) are a type of Beast enemies in Diablo III, added in patch 2.3.0. They are only encountered in Ruins of Sescheron and Eternal Woods in Act III.
Their design shares traits of both Abominables and Frozen Horrors from Diablo II.
Yeti are small in numbers (encountering more than two at a time requires luck), but durable and hit hard. In return, they are slow, as most large monsters in game. It is easy to spot them due to their sheer size.
All Yetis have a melee sweeping claw attack that deals moderate Physical damage, as well as slightly slower, but far more damaging, jumping attack, which requires them to jump up momentarily before slamming their fists into the ground.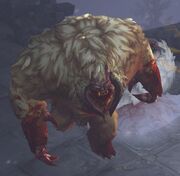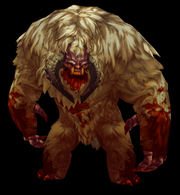 There are two types of Yeti in game:

This section contains facts and trivia relevant to this article.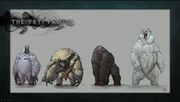 Community content is available under
CC-BY-SA
unless otherwise noted.