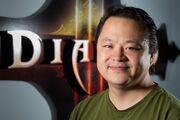 Wyatt Cheng is a principal game designer at Blizzard Entertainment.[1]
Biography
Edit
Cheng holds a B.S. in electrical engineering from Simon Fraser University. In addition to computer games, his hobbies include board and card games, as well as playing the guitar and cooking.[2]
Cheng joined Blizzard in 2003. He contributed to bosses in World of Warcraft, such as the Twin Emperors, Patchwerk, and the Four Horsemen.[2] He worked on Diablo III from the earliest days of its development.[3], serving as the senior game designer [4] He worked on the design of the Witch Doctor.[5] He later served as the technical game designer for Diablo III: Reaper of Souls.[6] Cheng is currently the lead game designer for Diablo Immortal.[7] Reportedly, Cheng wanted a break from Diablo III, which he had worked on for ten years.[8]

This section contains facts and trivia relevant to this article.
Is pretty sure people have phones.
References
Edit
↑ 2018-11-03, Exclusive Interview On Developing Diablo Immortal. YouTube, accessed on 2018-11-07
↑ 2017-08-02, How Blizzard Saved Diablo 3 From Disaster. Kotaku, accessed on 2017-08-06
↑ 2016-10-16, The Future of Diablo: What's Next?. Blizzpro, accessed on 2016-10-17
↑ 5.0 5.1 2018-11-06, 블리즈컨 2018, 디아블로 이모탈 인터뷰 정리!. YouTube, accessed on 2018-11-09
↑ 2013-12-05, BlizzCon 2013 – Diablo III: Gameplay Systems + Crusader Panel Transcript. Blizzplanet, accessed on 2014-02-21
↑ 2018-11-03, Blizzard could have avoided the Diablo Immortal PR catastrophe. Blizzard Watch, accessed on 2018-11-07
↑ 2018-11-22, The Past, Present, And Future Of Diablo. Kotaku, accessed on 2018-11-22
↑ 2016-11-07, Diablo III: Diablo 20th Anniversary Panel (BlizzCon 2016). YouTube, accessed on 2016-11-07
External links
Edit