Vengeance is a Devices skill for the Demon Hunter. It was introduced in Reaper of Souls.
In-game
While in Vengeance form, the Demon Hunter is immune to all forms of Crowd Control (existing effects are cleared) and their every attack (regardless of the Proc Coefficient) fires off additional ranged weaponry in the form of rockets and piercing bolts:
Side Guns: 4 additional piercing shots. The bolts pierce for 80-100 yards, hitting all enemies in line and ignoring most obstacles (including Waller affix barriers), but cannot pierce through solid walls. These are fired in the direction the Demon Hunter is facing or moving (during Strafe).
Homing Rockets: 2 rockets fired at random nearby enemies, in any direction.
Visually, the Demon Hunter turns into a creature of darkness. The helm shape is taken from Natalya's Sight, while the rest of armor is shaped like Archon item tier.
Runes
Non-rune enhancements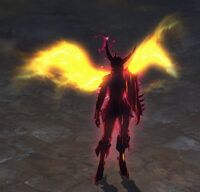 Passives
Ballistics: doubles damage done with Homing Rockets.
Trivia

This section contains facts and trivia relevant to this article.