This user is an Administrator
This user has been made a certified banhammer wielder on September 6 of 2015. They control your fate.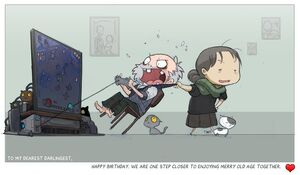 My favorite classes were always Rogue, Sorceress and Wizard. Go go girls, Diablo awaits :)
Please don't ban me for mistakes. Whatever I do, I do with good intentions! Honestly.
I hate RNG. I really hate RNG. The person who invented the MMO RNG will be my personal archenemy in the world beyond.
Completely finished sections
[
edit
|
edit source
]
All Legendary and Set items
All Class Skills
Legendary crafting materials and Hellfire materials / keys
Bestiary
CC effect types
Super Unique Monsters
Unique Monsters
Patch 2.4 changes
Need references for Piro Marella, Zoey's Secret and Lefebvre's Soliloquy, see talk pages.
Better screenshots and / or details on Unique monsters: Dargon (Highlands Passage), Snoglatch Grimwield (Highlands Crossing), Yorkathraxx (Passage to Corvus)
This Wiki uses a large number of pictures, many of which I put in the articles myself. 
All images (including skill icons) taken from the official websites, or datamined from the game files, are copyrighted by Blizzard Entertainment.
All screenshots are either made by myself or taken from the Web and / or modified (in most cases, cut to accomodate the size). Known sources for these pictures include, but are not limited to d3andre.com, diablofans.com, as well as numerous other websites.
It is not always possible (physically) to contact the author to obtain a permission to use these images. If you are the author of an image featured on this wiki, and do not want it to be there, please contact me or any of the admins, and it will be removed, credited or modified as you request as soon as possible. You can leave a message on a talk page (no need to register for that).
Community content is available under
CC-BY-SA
unless otherwise noted.