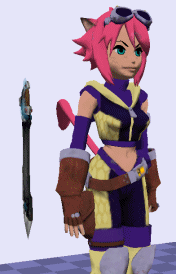 Kit Ballard
(Kit for short) is an avid gamer, loving games of many forms and styles. She loves information and usually will try to find everything she can about a subject. Being 33 years old, she's grown up with every gaming system and a good chunk of the games that was on those consoles. Well experinced in all manor of gaming, she loves to talk game.
Kit also dabbles in many other things aside from gaming. One of her more prominent traits is her 3D animation skills (Shown to the right). She's able to create animations in mere hours, making them seem almost life-like. Kit is also a Youtube personality. She tries to keep her channel updated with things she found funny, things she's made or animated, or even Let's Plays, "Kit" Plays, and her reviews. She dreams of making it big on Youtube someday. She currently misses the days of having high speed internet and live streaming.
Contact Info
Edit
Kit has a few methods of being reached. She generally ignores friend invites from people, unless they've talked to her before and let her know they've sent one.
Youtube - Her personal channel of gaming
Facebook - Her fan page for people to talk to her, and get more info about what she's up too
Twitter - While she does have Twiiter, she rarely uses it herself, since it's mostly automated. She checks it often though.
Playstation 4: K1tBallard - Plays Diablo 3 and other games.
WiiU: KitBa11ard - Smash 4 and Super Mario Maker are her to-go-to games.
Used to be known as RydiaFromFF2. FF2 was a joke about the American version of Final Fantasy 4.
Kit Ballard is an actual charactor from a game and webcomic called Blade Kitten . 
Kit has a web comic of her own.
Kit is a terrible speller.
Community content is available under
CC-BY-SA
unless otherwise noted.