I am a huge fan of the Diablo series and have grown up with it. Favorite class of all time would be the Necromancer. I enjoy his dark persona and find it reminiscent of my own as well and the thought of having undead warriors to do my bidding is nice too. The Diablo 3 Necromancer is cool, but D2's Necro takes the cake for favorite. I have a soft spot for the first Diablo, as it was the game that got me addicted to the series at a young age.  
My characters in Diablo (series):
Edit
Diablo:
Aidan: lvl 50 Warrior
Serath: lvl 17 Warrior
Diablo II/LOD:
Champion Zahl: lvl 85 Necromancer
Slayer Erik: lvl 45 Barbarian
Zealot: lvl 28 Paladin
Slayer Errevan: lvl 44 Necromancer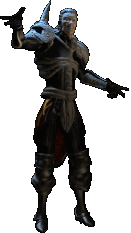 Diablo III/ROS:
☀https://us.battle.net/d3/en/profile/DominusMortm-1568/hero/32073507
Community content is available under
CC-BY-SA
unless otherwise noted.