Urshi is an ancient nephalem spirit who once served her kind in ages past. When the champions of that era proved themselves, she would improve their gems. Now, she offers these same services to the Nephalem.
In-game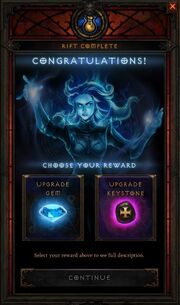 Urshi is an NPC that can upgrade Legendary Gems for players. She appears in Greater Rifts after the Rift Guardian is defeated. Visually, she is a nephalem spirit similar to Orek.
Urshi only offers her services if players actually finish the Greater Rift in time. If they do, she offers upgrading Legendary Gems. If players fail to beat the timer, she will appear, but will not upgrade gems.
She gives 3 attempts (can be distributed as player sees fit, on the single gem or on different ones), each can give 1 rank to the selected gem. An Empowered Rift will give +1 extra attempt for a hefty sum in gold. A Greater Rift beaten without a single death will add another +1 extra attempt, to a total maximum of 5.
The chance to succeed depends on the current rank of the gem in question and on the current tier of the Rift.
The chance to upgrade the gems is shown in the menu. Note that she can upgrade even the gems that are currently in stash, but cannot upgrade those equipped or held by other characters on the same account.
Quotes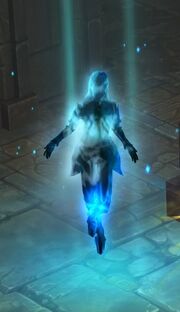 "My name is Urshi, and like Orek, I once served the ancient nephalem."
"When the champions of ages past had proven themselves, I would attempt to improve the clarity of one of their gems."
"If you have a gem of sufficient quality, I can try to do this for you as well, champion."
"Nephalem, you have triumphed!" (upon completion of a rift)
Development
This page contains obsolete content
This article contains information that is no longer relevant to gameplay, but is kept here for informational purposes.
Originally, she appeared in Rifts regardless of outcome, but if the timer was beaten, she would offer a choice of either upgrading gems or upgading the Greater Rift Key.
Trivia

This section contains facts and trivia relevant to this article.
It has been joked that Urshi's repeated dialogue stems from loneliness from residing in rifts.[1]
References
Community content is available under
CC-BY-SA
unless otherwise noted.