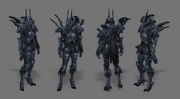 Unhallowed Essence is a Class Set for Demon Hunters for level 70. This set can only drop at Torment difficulty. It was added in patch 2.2.0.
All set pieces are restricted to Demon Hunters only. Even transmogrification of these items is only available to Demon Hunters.
The set consists of six pieces. All six are required to complete the set, and all of them are Demon Hunter-restricted.
Set Bonus:
Hatred generators also generate 2 additional Hatred and 1 Discipline per attack (2 pieces)
The Demon Hunter takes 60% reduced damage and deals 60% increased damage as long as there are no enemies within 10 yards, and 8 seconds afterwards (4 pieces)
In addition to the Primary skills (Hungering Arrow, Grenades, Bolas, Entangling Shot and Evasive Fire), two skills can, with the proper item equipped, also trigger the first and third bonuses: Elemental Arrow (with Kridershot equipped) and Chakram (with Spines of Seething Hatred equipped). The side arms damage from Vengeance is also enhanced by the third bonus, but other attacks made while Vengeance is active are not. The second and third bonuses are multiplicative to other similar modifiers.