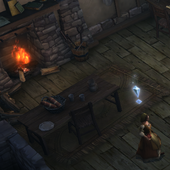 The Tinker's Hovel is a small area in Fields of Misery in Act I of Diablo III.
It is located on the North side of Fields of Misery in the little nook called Sheltered Cottage. It has the Wandering Tinker inside with a shop.
There will always be a satchel outside "Tinker's Possessions" with a tome in it, called Wandering Tinker's Diary.