The Typhon's Veil is a Wizard Item Set in Diablo III, added in patch 2.6.8.
The set requires a Character Level of 70 and can only be equipped by the Wizard class. This set can only drop at Torment Difficulty.
Pieces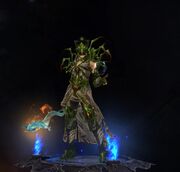 The set consists of six pieces. All six are required to complete the set, and all of them are Wizard-restricted.
Set Bonus:
Doubles the duration of Hydras and increases the number of heads on multi-headed Hydras by two (

2 pieces

)
Damage taken is reduced by 8% for each Hydra head alive, as long as there is one available. Each time you take damage, a Hydra head dies, but no more than once every 2 seconds (

4 pieces

)
Hydras deal 2000% increased damage for each Hydra head alive (

6 pieces

)
The first Bonus does not apply to the Mammoth Hydra Rune, since it only has a single head. Remember that the Serpent's Sparker Wand still allows summoning two Hydras at once, though, to a total of up to 10 heads.
The second Bonus is calculated per head, so basically each active Hydra adds 5 stacks (three base heads + two from the first bonus). Taking damage reducing the number of heads is less dangerous than it sounds since Hydra builds are by definition kiting-oriented.
The third Bonus stacks additively, boosting all damage done by each head. Simple math suggests that two Hydras with 10 heads in total will deal 10 x 2,000% = 20,000% increased damage.
The Magistrate is recommended with this set.
Trivia

This section contains facts and trivia relevant to this article.
The 

set

is likely named after Typhon, the serpentine giant from Greek mythology, who was also a father to Lernaean Hydra (which in turn, inspired the Hydra archetype).
Community content is available under
CC-BY-SA
unless otherwise noted.