The Legacy of Raekor is an item set in Diablo III.
It is the defensive class set for Barbarians for level 70. This set can only drop at Torment difficulty.
It is named after Raekor, the first woman to earn the Warmaster title.
Only Barbarians may wear pieces of this set. Even transmogrification of these items is only available to Barbarians.
The set consists of six pieces, all of which are required to complete the set, and all are Barbarian-restricted.
Set Bonus:
Furious Charge refunds a charge if it only hits one enemy (2 items)
Furious Charge gains the effect of every rune and deals 1000% increased damage (4 items)
Every cast of Furious Charge grants a stacking effect that increases the damage of the next Fury-spending attack by 5500% per stack. Every cast of a Fury-spending attack consumes up to 5 stacks (6 items)
The combined rune Furious Charge uses the damage type of the manually selected rune. Same goes for the last bonus: the damage type matches that of the skill.
The damage bonuses from second and third are multiplicative to other similar modifiers.
For the last bonus, as only up to 5 stacks may be consumed by a single attack, each Fury-expending cast may deal up to +27500% damage. As the bonus does not depend on which ability is used, more powerful and expensive casts may be a better choice for it. Abilities that normally cost Fury, but don't consume it due to the Channeling Pylon, will still benefit from this set.
The Barbarian can store up to 100 stacks of Raekor's Charge, they last infinitely and are only lost if the Barbarian dies (meaning that the Barbarian can teleport to waypoints or enter other levels without losing the stacks). Only one stack is gained per cast, regardless of how many enemies it hits (even if none were hit).
Whirlwind can benefit from the last bonus as well, but does so in a non-beneficial way: every tick of it will consume up to 5 stacks, resulting in a very short damage buff.

This section contains facts and trivia relevant to this article.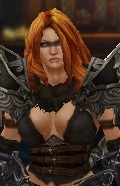 Wearing Raekor's Heart causes the character's face to be painted with a black stripe over their eyes.