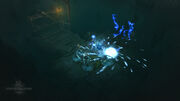 The Cesspools are the sewers of Westmarch.
The zone was unable to be implemented before the release of Reaper of Souls. However, the zone can appear in Nephalem Rifts as of patch 2.1.[1]
As of patch 2.2, it was reimplemented in form of Guild Hideout, a dungeon beneath the Westmarch Heights.
ReferencesEdit
↑ 2014-06-21, PATCH 2.1.0 PTR PREVIEW. Blizzard Entertainment, accessed on 2014-06-21