Raise a Floppa - The Loop
Play Sound
This page contains obsolete content
This article contains information that is no longer relevant to gameplay, but is kept here for informational purposes.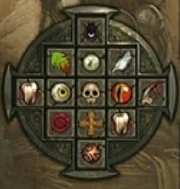 The Talisman was a feature cut from Diablo III.
Overview
The initial idea was to use the Talisman as a sort of mini-game within Diablo III.[1]
Players would not start the game with the Talisman.[2] It existed as a circle in the middle of the inventory screen, and was a means of providing additional character customization.[3]
The Talisman was removed as it "didn't sit well alongside the 200MPH action" of the game. In playtesting, no-one wanted to stop and use the Talisman system. It was repeatedly simplified in a bid to get the playtesters to use it, until it got to a point where "it finally reached a point where it was so simple that the originally envisioned fun mini-game was gone, yet it still added tons of math complexity." Thus, it was removed.[1]
References