Spirit of Barbs is a Druid skill in Diablo II.
Synergies
Edit
Gives synergy to: None
Receives synergy from: None

Last of the 'Sage' summons, Spirit of Barbs performs the same function as the Paladin's Thorns, in that while the Druid and his minions still take damage, a percentage of that damage is returned to the enemy that inflicted it as well. At Level 1, 50% of the damage received is reflected back onto the aggressor. While the Spirit does not reflect as much damage as Thorns, it is a summon and not an active skill, freeing the Druid to have it and two other skills active (The Paladin is restricted to having just one other active skill). Spirit of Barbs is immune to Physical and Poison in Nightmare, and only immune to Poison in Hell.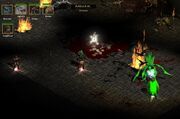 The spirit invoked by this skill bestows upon the Druid and his company the mystical ability to reflect damage back at any opponents who injure them.
Skill Progression
Edit
| Level | 1 | 2 | 3 | 4 | 5 | 6 | 7 | 8 | 9 | 10 | 11 |
| --- | --- | --- | --- | --- | --- | --- | --- | --- | --- | --- | --- |
| Mana Cost | 25 | 26 | 27 | 28 | 29 | 30 | 31 | 32 | 33 | 34 | 35 |
| Life | 213 | 266 | 319 | 372 | 426 | 479 | 532 | 585 | 639 | 692 | 745 |
| Damage Returned | 50% | 70% | 90% | 110% | 130% | 150% | 170% | 190% | 210% | 230% | 250% |
| Radius (yards) | 20 | 21.3 | 22.6 | 24 | 25.3 | 26.6 | 28 | 29.3 | 30.6 | 32 | 33.3 |
| Level | 12 | 13 | 14 | 15 | 16 | 17 | 18 | 19 | 20 | 25 |
| --- | --- | --- | --- | --- | --- | --- | --- | --- | --- | --- |
| Mana Cost | 36 | 37 | 38 | 39 | 40 | 41 | 42 | 43 | 44 | 49 |
| Life | 798 | 852 | 905 | 958 | 1011 | 1065 | 1118 | 1171 | 1224 | |
| Damage Returned | 270% | 290% | 310% | 330% | 350% | 370% | 390% | 410% | 430% | 530% |
| Radius (yards) | 34.6 | 36 | 37.3 | 38.6 | 40 | 41.3 | 42.6 | 44 | 45.3 | 52 |