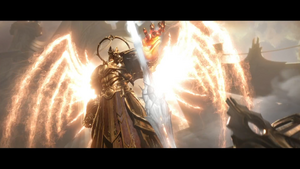 Solarion, the Spear of Valor, is the main weapon of choice of the archangel Imperius. According to the legend, the weapon was forged by Imperius in the heart of a dying star. It has been said to be an extension of his own will, powerful enough to sunder Hell's mightiest ramparts with a single strike. During one of Imperius's invasions of Hell, it is written that Solarion felled so many demons that rivers of blood flowed throughout the realms of the Great Evils.[1]
Imperius did not carry the spear at his side at all times. Rather, he summoned it from on high as a lance of blinding light that then manifested as a physical spear in his hand.[1][2][3] For all its power however, the spear was cloven in two by Diablo when the Lord of Terror invaded the High Heavens.[3] At some point after the invasion however, Imperius was apparently able to reforge the spear, and was once again able to summon it to his side at will.[4]
References
Edit
↑ Diablo III, Act II Intro Cinematic
↑ 3.0 3.1 Diablo III, Act IV Intro Cinematic
Community content is available under
CC-BY-SA
unless otherwise noted.