Simulacrum is a Blood and Bone Necromancer skill in Diablo III.
When cast, creates a bloody entity (visually, a skinless human body) that will, without any additional cost, duplicate any Essence-spending skills (Secondary skills: Death Nova, Bone Spear, Skeletal Mage) at any nearby target of its choice. They cannot use a skill that the Necromancer does not have equipped.
For all purposes, these spells apply as if the Necromancer cast them, benefiting from enhancements, except for they spend no resources. However, the spell also comes at a considerable cost of quarter of the character's maximum Life.
Any effect that would increase minion damage will only apply to the Simulacrum's own attacks: its spells are only enhanced if the Necromancer's own are.
The Simulacrum will follow the Necromancer around, and will attack on its own (with a one-handed scythe), but can be attacked by enemies too (though it also blocks pathing).
Skill Runes
Edit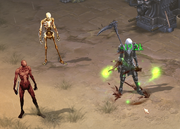 Non-rune enhancements
Edit

This section contains facts and trivia relevant to this article.
Community content is available under
CC-BY-SA
unless otherwise noted.