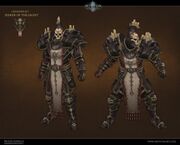 Seeker of the Light is a Crusader class set in Diablo III, added in patch 2.3.0.
The set is named after Anajinn.
It requires character level 70 to drop, and only drops at Torment difficulty.
All set pieces are Crusader-only. Even transmogrification of these items is only available to Crusaders.
The set consists of six pieces, all six of which are required to complete it, and all six are Crusader-restricted.
Set Bonus:
Every cast of Blessed Hammer that hits an enemy reduces the remaining cooldown of Falling Sword and Provoke by 1 second (2 pieces)
The Crusader takes 50% less damage for 8 seconds after landing with Falling Sword (4 pieces)
Increases the damage of Blessed Hammer by 12000% and Falling Sword by 1000% (6 pieces)
The first bonus only triggers once per cast, and only if it deals actual damage.
The third bonus is multiplicative to other similar modifiers. It applies to all secondary effects of the said spells, even Avatars of the Order of Rise Brothers rune.

This section contains facts and trivia relevant to this article.
Candles on the helm and pauldrons of this set are actually lit in-game, always on fire.
Although lore-wise the Golden Scourge is a weapon of choice of Anajinn (the titular Seeker of the Light), the set itself focuses on entirely different skills, so combining them is of questionable gameplay use.
References
Edit
↑ 2016-03-26, TWO YEARS, TONS OF ART—CELEBRATING REAPER OF SOULS. Blizzard Entertainment, accessed on 2016-04-16
Community content is available under
CC-BY-SA
unless otherwise noted.