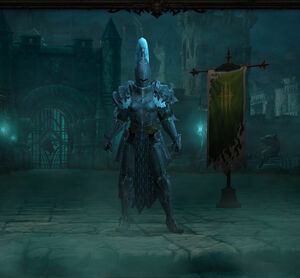 Roland's Legacy
 is a 
Crusader
 class 
set
 in 
Diablo III
, added in patch 2.1.
The set is named after Crusader Roland, and the pieces are narrated by his apprentice, who eventually claimed the armor for himself.
It requires character level 70 to drop, and only drops at Torment difficulty.
All set pieces are Crusader-only. Even transmogrification of these items is only available to Crusaders.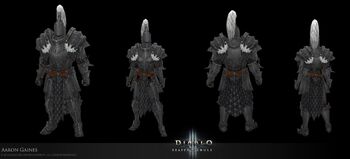 The set consists of six pieces, all six of which are required to complete it, and all six are Crusader-restricted.
Set Bonus:
Every cast of Shield Bash and Sweep Attack that hits an enemy reduces the cooldowns of Laws and Defensive Skills by 1 second (2 pieces)
Increases the Shield Bash and Sweep Attack damage by 13000% (4 pieces)
Every use of Shield Bash or Sweep Attack that hits an enemy grants 75% increased Attack Speed and 15% damage reduction for 8 seconds. This effect stacks up to 5 times. (6 pieces)
The first and third bonuses only trigger if an attack actually hits an enemy. The second bonus is multiplicative, not additive, to other similar modifiers.
Defensive skills include: Shield Glare, Judgment, Consecration and Iron Skin. Laws include: Laws of Valor, Laws of Hope and Laws of Justice.

This section contains facts and trivia relevant to this article.
As Roland's Legacy occupies all the same slots as Armor of Akkhan and Seeker of the Light, the three sets are mutually-exclusive.
This was the second Crusader set in game, making Crusader the only class with three class sets, especially considering that all Crusader level 70 class sets consist of 6 items instead of 6-7 or 4. Moreover, Crusaders are the only class who have all level 70 sets restricted to their class only.
Community content is available under
CC-BY-SA
unless otherwise noted.