Rodger the Alchemist is a merchant and an alchemist.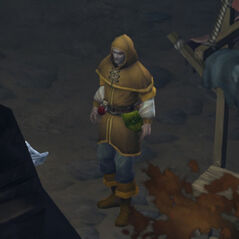 Rodger randomly appears as an
NPC
in
Diablo III
. He can be found in
Act 1 (Diablo III)
, at the end of the bridge in
Wortham Bluffs
.
Rodger only sells Health Potions and a random assortment of Dyes, however he sells them at 50% of the price of other merchants. 
Rodger starts the "The Sacrificial Hermit" event, which requires the player to deliver a potion to the Crazed Hermit outside the Caverns of Araneae.
Spawning Rodger
Edit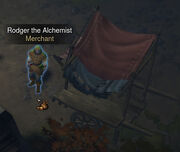 Rodger is not a guaranteed spawn, and it can take several attempts before he will appear. Start a game (on any difficulty) at the beginning of Trailing the Coven, talk to Leah to trigger the event, and take the Wortham Chapel Cellar Waypoint. Exit Wortham through the northern gate and continue until you cross the bridge. Rodger spawns immediately at the end of the bridge, so if he is not present continue down until you activate the Checkpoint outside the Caverns of Araneae and leave the game. Rejoin and run back to the bridge to check his spawn, repeat for as long as is necessary.
"Hello, wanderer. I sell quality potions and dyes at a fair price. Have a look if you like!"
"Oh, and would you do me a favor? There's a lunatic down by the caves who wants a potion to make his blood sweet, if you can believe it."
"'Is he not a troubled fool, as I said? Another madman in a mad world. Thank you for the assistance, by the by. Now why don't you peruse my goods?"
Achievements
Edit
Talking to Rodger is one of the criteria for completing the Market Research achievement, along with:
Community content is available under
CC-BY-SA
unless otherwise noted.