Fire Emblem Warriors: Three Hopes - The Loop
Play Sound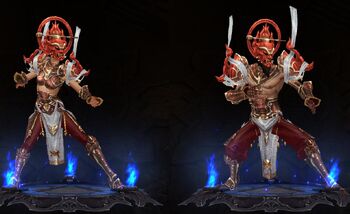 Raiment of a Thousand Storms is the offensive Monk class set in Diablo III.
This set requires character level 70 to drop, and can only drop at Torment difficulty.
All set pieces are restricted to Monks only. Even transmogrification of these items is only available to Monks.
Pieces
The set consists of six pieces. All six are required to complete the set, and all of them are Monk-restricted.
Set Bonus:
The first bonus is multiplicative to other similar modifiers. Damage is not added to the respective stat, but rather all output of the skill is doubled.
The second bonus only spends Spirit if the Monk has enough, and does not remove the Charge expense, but rather refunds it, so with zero charges, the Monk still cannot cast it, even if they have enough Spirit. This Spirit cost is affected by all forms of resource cost reductions.
The last bonus increases the base weapon damage, regardless of the chosen rune, and this bonus is not consumed on cast. A Spirit Generator skill only needs to be used, and does not have to hit anything. The skill button will be highlighted to show that this bonus is active.
For the second part of the last bonus, damage increase is multiplicative to the first effect and all other similar buffs, and is not consumed on hit, but also does not stack.
Spirit Generators only include the Primary skills: Fists of Thunder, Way of the Hundred Fists, Deadly Reach and Crippling Wave.
Trivia

This section contains facts and trivia relevant to this article.
Development
This page contains obsolete content
This article contains information that is no longer relevant to gameplay, but is kept here for informational purposes.
Prior to patch 2.2.0, this set used to have different set bonuses: 
Prior to 2.4, the damage bonus for Primary skills was as high as 300%, the largest one among all similar Monk effects.