Raekor's Heart is a Chest Armor piece of The Legacy of Raekor set in Diablo III.
It only drops at character level 70, and only at Torment difficulty. Note that it can only be worn by Barbarians.
Stats (Level 70)
Edit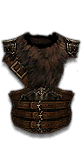 Raekor's Heart
Set Chest Armor
Set Bonuses:
Furious Charge refunds a charge if it only hits one enemy (2 items)
Furious Charge gains the effect of every rune and deals 1000% increased damage (4 items)
Every cast of Furious Charge grants a stacking effect that increases the damage of the next Fury-spending attack by 5500%. Every cast of a Fury-spending attack consumes up to 5 stacks (6 items)
Joritz the Mighty fell during the early stages of the battle to rule the north and was taken prisoner. He dedicated his life to Raekor after she liberated him from a Samaurenian labor camp. This magnificent brigandine was his gift to her on their wedding day.

This section contains facts and trivia relevant to this article.
Wearing this item causes the character's face to be painted with a black stripe over their eyes.
Community content is available under
CC-BY-SA
unless otherwise noted.