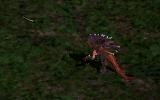 The Quill Dart skill is a monster-exclusive skill used by the Spike Fiend monster class.
Mechanics
When a Spike Fiend uses the Quill Dart skill, it shoots one of the razor-sharp spines on its back towards its opponent. It is regarded as a second type of attack and has separate stats.
The Spikefiends, being very slow creatures, use this skill when the player is out of their melee reach.
Unique Spike Fiends with any of the enchanted attributes can add their type of elemental damage to this attack.
Community content is available under
CC-BY-SA
unless otherwise noted.