"I did not believe the legends—all true! This island, it rots you from within. We never should have come here..."

—

Quentin Sharpe's last words(src)
Quentin Sharpe is a minor character in the Greyhollow Island storyline in Act V of Diablo III.
Biography
Edit
Sharpe and his team came to Greyhollow island against their will after a wave hit their ship and smashed it at the rocks of the island's shores. They were therefore forced to stay there and wait for rescue, for at least a month. The explorer then decided to research the land, which he believed was a myth.
The entire crew of Sharpe's team died over time, from illness, madness, or for no apparent reason, unable to withstand the evil of Nereza poisoning them. Sharpe lived longest of them, hiding in the caves.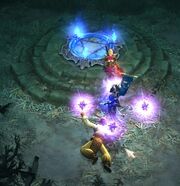 After meeting Rayeld, Sharpe tried to kill him (when the Crazed Man attacked one of his crewmen). Quentin later tried countless times to kill The Crazed Man, but to no avail, as the cursed priest could not die permanently. After one such attempt, wounded gravely, Sharpe tried to reach the Waypoint in desperation. He witnessed the Nephalem coming through it, but died from blood loss before he could have been helped.[1]
Quentin Sharpe dies immediately as the Nephalem teleports to the island. His journal, Explorer's Log, can be found across the island, including all caves. One of them, Sharpe's Cove, bears his name.

This section contains facts and trivia relevant to this article.
References
Edit
Community content is available under
CC-BY-SA
unless otherwise noted.