"Did you know that King Leoric had his own wife executed? Terrible, terrible things happened when he went mad..."

— A New Tristram villager(src)
Queen Asylla was the wife of King Leoric.
Biography
Life
"Starved of the sun, I no longer know what day it is. I can hear The Warden, my husband, and that dog Lazarus discussing my fate. My life will be over soon, yet I fear more for my poor Albrecht's future in the wake of his father's madness. If only Aidan were here."

— Asylla in her journal(src)

Asylla was born in Khanduras,[1] and was the beloved wife of King Leoric, and mother of his two sons. Before his fall to madness, Leoric loved her deeply. Asylla was known for her beauty. She had a thousand gowns of a lovely pink, gifted to her by Leoric all at once.[2]
During the Darkening of Tristram, Leoric was seized by madness. Convinced by Lazarus that Asylla was conspiring against him, Leoric decided to imprison of his wife, confining her in his dungeons. She knew her death was imminent, yet feared for her sons more.[3]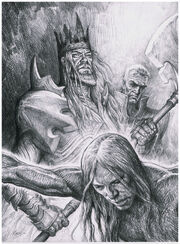 The king eventually had her executed by guillotine. In her last moments, Asylla calmly maintained her innocence in the face of her husband's groundless accusations, but she was nonetheless beheaded, with Lazarus claiming that she had lied to the very end.[4] Following her beheading, her remains did not decay, apparent proof that she was a pure soul wrongly executed. The queen's bitter confusion about the circumstances of her death remain forever etched on her features, and those who see her vacant stare often found themselves transfixed by it.[5] Her body was interred in Ashwold Cemetery,[1] though the location of her tomb was kept secret, so that no-one would disturb her rest. Only her handmaiden knew its location.[6] Her spirit however, was bound to the site of her execution, unable to move on.[4]
Undeath
"A grim end to a noble woman. I am proud to have played my part in Leoric's fall."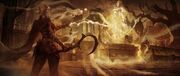 In 1270, the rogue Necromancer Lethes tried to summon Asylla's spirit. She believed that in doing so, she would be led to Leoric, and thus be able to claim the Mad King's soul as her own.[7] She found Asylla's handmaiden, tortured the location out of her, and then killed her. She found Asylla's tomb and began summoning her spirit. However, the ritual was interrupted by Xul and a group of heroes.[8]
In 1285, Asylla was found haunting the prisons beneath her former manor, holding her own head in a stretched arm. Li-Ming noted that by all rights, she should be terrified, but that the ghost of the queen carried such sadness with her. Asylla informed The Nephalem of her servants' souls being kept tortured and imprisoned. Once they were freed, the ghost of the queen directed the heroes to The Warden, and asked they end his evil forever.
The Nephalem would later witness the ghostly re-enactment of Asylla's last moments.[4]
In-game
Asylla's ghostly form can be encountered in Diablo III in The Cursed Hold during The Imprisoned Angel quest. Her journal can also be found in this area. She then appears again in Royal Quarters, leading players to a secret area.
The Sorrowful Countenance mojo is based on her, but it was cut from the in-game.
Lovely Dye flavor text also references her, and is the only mention of anything in her biography not related to Leoric's fall.
Trivia

This section contains facts and trivia relevant to this article.
The manner of Asylla's execution differs between sources. In Diablo III, she is seen being executed by guillotine. In Book of Cain artwork however, Leoric is seen wielding an axe himself, about to execute her.
Apparently, in life, she possessed blonde hair[5], but her in-game portrait (used for her journal) shows her with brown hair instead.
Queen Asylla is voiced by Vanessa Marshall.
References
Community content is available under
CC-BY-SA
unless otherwise noted.