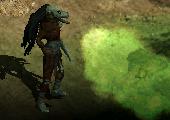 Poison Breath is one of the Greater Mummy's signature skills in Diablo II. Their breath, filled with the vapors of the grave, is a deadly poison that has claimed the lives of many would-be heroes.
The Poison Breath is a monster-exclusive skill that is used by Greater Mummies. The Greater Mummy releases a poisonous stream of gas towards the player or one's minions or hirelings. The afflicted takes poison damage over time.
Community content is available under
CC-BY-SA
unless otherwise noted.