"What ails you, my friend?"

—

Pepin(src)
Pepin was the town healer of Tristram.
Biography
Edit
Pepin long studied the arts of medicine and healing.[1] He was a close friend of Deckard Cain, and was the one to hand him the letter that informed Cain of the death of his wife and son. Cain, succumbing to liquor and grief, yelled at Pepin to get out, to which Pepin obliged.[2]
The Darkening of Tristram
Edit
During the Darkening of Tristram, Pepin was in his mid-sixties. He was initially a high ranking priest who served under Archbishop Lazarus. As the wind shifted, Pepin decided to hide out in Tristram after Lazarus and Leoric both succumbed to Diablo's corruption.
When a Hellmouth opened beneath the Tristram Cathedral he made the village his home. He remodeled an old building to serve as his domicile, clinic, and workplace. When the townsfolk attacked the cathedral, led by Lazarus as part of a supposed effort to rescue Prince Albrecht, Pepin was shocked. Apparently still having faith in Lazarus at this point, he thought that the archbishop would have more sense. As it turned out, it was a trap, and many in the mob were slain or severely injured by a demon called The Butcher. When the few survivors made it to the surface, many of them bore the scars of the demon's wrath. Pepin found that their wounds festered with disease, and found them almost impossible to treat.[3]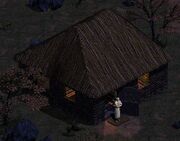 As Tristram's situation worsened, Pepin continued to act as the town healer. Putting his healing talents to use, he offered free healing to all comers. While in his clinic, he worked on concocting incredibly potent elixirs made from the herbs he stored in the back of the house. Unlike his healing, he charged people for the elixirs and potions, as he needed the gold to purchase the unique healing ingredients he required from the caravans that came through town. This complemented the herbs he grew in his small garden.
Diablo was defeated by a trio of heroes, but their deeds offered only a small reprieve. When Aidan departed, the town was overrun with demons, and almost all of its inhabitants slaughtered,[4] Pepin was among them, and his death was personally witnessed by Deckard Cain. Writings of Cain indicate that Pepin's death was particuarly grusome—when writing on the subject, Cain commented "suffice it to say the images are branded into my mind, and I fear they will haunt me until the end of my days."[1]
Pepin appears as an NPC in Diablo. He also buys and sells healing potions and elixirs. If the well is tainted, it is Pepin who will initiate the Poisoned Water Supply quest, and he is also interested in studying the brain of a demon.
She claims that they are visions, but I have no proof of that one way or the other.
Diablo II
Edit
In Diablo II, when the player travels to Tristram, there is a corpse at the exact spot where Pepin used to stand. This may be Pepin's body.
Diablo III
Edit
Pepin is referenced in the flavor text of the Wirt's Leg mace in Diablo III. The text is taken verbatim from one of his lines in Diablo I.
Personality and Traits
Edit
"The hand, the heart and the mind can perform miracles when they are in perfect harmony. The healer Pepin sees into the body in a way that even I cannot. His ability to restore the sick and injured is magnified by his understanding of the creation of elixirs and potions. He is as great an ally as you have in Tristram."

—

Adria(src)
Pepin was a skilled healer, and possessed a sound understanding of potions and elixrs. He was a close friend of Deckard Cain, who regarded Pepin as as true friend; perhaps the closest he had while in Tristram. He commented that Pepin could be a bit addled at times, but no more caring soul had ever existed. Other townsfolk had similar praise for Pepin's generous spirit.[5]
References
Edit
Community content is available under
CC-BY-SA
unless otherwise noted.