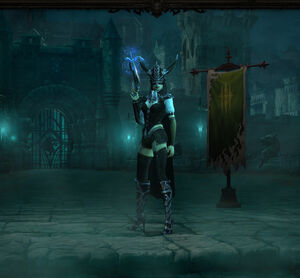 Natalya's Vengeance (previously Natalya's Solace) is an item set in Diablo III. 
This set is named for Natalya, a former Assassin of the Viz-Jaq'taar.
The set requires a character level of 60, and can only drop on Torment difficulty.
The set consists of seven pieces, six of which are required to complete it. Two of them, the cloak and crossbow, are Demon Hunter-restricted.
Set Bonus:
Reduces cooldown of Rain of Vengeance by 4 seconds on any successful attack with a Hatred generator or spender (2 pieces)
Rain of Vengeance deals 100% increased damage (4 pieces)
After casting Rain of Vengeance, deal 14000% increased damage and take 60% reduced damage for 10 seconds (6 pieces) 
The first bonus only triggers if a Primary skill (Grenades, Hungering Arrow, Evasive Fire, Bolas or Entangling Shot) or a damaging skill that costs Hatred actually hits an enemy, and only once per cast.
The second bonus is multiplicative to other similar modifiers, and applies even to the Crashing Rain beast.
The last bonus does not stack from multiple applications, but does affect the cast that triggered it.
This page contains obsolete content
This article contains information that is no longer relevant to gameplay, but is kept here for informational purposes.
Prior to patch 2.2.0, this set also provided bonuses to Dexterity, Critical Hit Chance and maximum Discipline.
Community content is available under
CC-BY-SA
unless otherwise noted.