Mystic Ally


Class: Monk
Required Level: 22
Skill Category: Focus
Active / Passive
Cooldown: 30 seconds

Passive: A mystic ally fights by the Monk's side. The ally deals 130% of their damage as Physical per swing. When the ally dies, it is reborn after 5 seconds.

Active: The mystic ally has its damage increased by 50% for 10 seconds.

Damage Type: Physical
Other Stats: Summon; Can be cast on the move; Does not interrupt casting; Can be used while under crowd control effects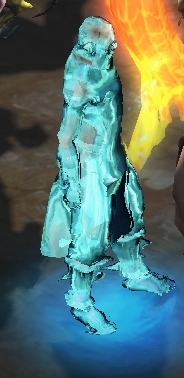 Mystic Ally is a Focus Monk skill in Diablo III, unlocked at level 22.
Passively summons a permanent companion: the spiritual copy of the Monk. It follows the Monk around, attacking enemies with the same attack speed as the Monk, dealing 130% damage as Physical per hit. It cannot use any of the Monk's skills. The Ally can be killed (has the same Toughness as the Monk), but is automatically revived in 5 seconds.
When activated, increases damage done by the Ally's attacks by +50% (to 195% damage as Physical).
Non-rune enhancements
Edit
Community content is available under
CC-BY-SA
unless otherwise noted.