Raise a Floppa - The Loop
Play Sound
Myriam Jahzia is a Vecin Mystic and artisan.
Biography
Early Life
Myriam used to have a sexual relationship with Covetous Shen.[2] By the End of Days, she had been married at least twice.[1]
Myriam was emotionally scarred by an experience where she tried to use her foresight to change the future. She encountered a girl who had been toying with dark magic, but when Myriam foresaw demonic possession in her future, the girl begged her for help. Because the magic had already tainted her, ceasing its practice would not be enough. Ergo, Myriam crafted her a protective charm. However, while the demon couldn't possess the girl, it spitefully possessed her father instead, killing the girl's mother and sister. When the demon showed the man what he had done, he took his own life. Last Myriam heard, the girl she had saved had been committed to an asylum. Since then, Myriam refused to change the outcomes seen through her foresight.[3]
During (or just prior to) the End of Days, Myriam left her people and everyone she loved in order to aid The Nephalem.[4]
The Reaper of Souls
Myriam was in Westmarch when the Reapers moved against it. She proved to be no match against them and was trapped by their relentless advance. Fortunately for her, the heroes who were responsible for destroying Diablo in the High Heavens were making their way through Westmarch, successfully rescuing her in the process. In gratitude, she offered her services in return.[5]
In-game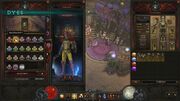 Jahzia appears as an NPC in Reaper of Souls. She offers players transmogrification and enchanting services regardless of their level.[5]. She also starts The Witch quest.
Dyes functionality was added directly to her interface in patch 2.4.3, removing dyes from vendors. Gold prices for dyes remained unchanged.
Development
Jahzia was originally intended to appear in Diablo III vanilla. She was cut after it was decided that her function was redundant in the game's customization system.[6] Karyna originally referenced her in dialogue, but these lines were removed along with Jahzia.[7]
At first, all of the services offered by the Mystic was available only to players who owned Reaper of Souls. However, as of patch 2.2.1 for the game, Myriam offers her services to classic players as well.[8]
Personality and Traits
Jahzia is a wise and resourceful woman who spent many years harnessing her craft. The Sight is especially strong with her.[5] Myriam has a very carefree attitude, insisting that The Nephalem take time to enjoy and live their life while they can.[9] Usually, she is "not one for vengeance."[10]
References