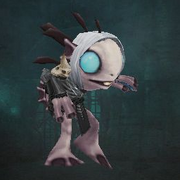 The Murkromancer is a pet that was available in Diablo III for players who attended or purchased a Virtual Ticket for BlizzCon 2017.[1] It is a reanimated Murloc holding a BlizzCon ticket.
No one escapes the aaaaaughibbrgubugbugrguburgle! Rumor has it this necrotic, aquatic companion can command an army of dead fish, which is about as useful as you'd think.
Trivia
On September 30, 2017, A player found a Necromancer-themed Murloc pet holding a BlizzCon ticket on the PTR.[2]
Gallery
References