Mundunugu's Regalia is a Witch Doctor item set in Diablo III, added in patch 2.6.8.
It appears to be named after an Umbaru named Mundunugu.
The set requires a character level of 70 and can only be equipped by the Witch Doctor class. This set can only drop at Torment difficulty.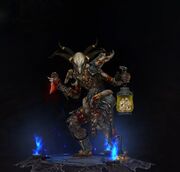 The set consists of six pieces. All six are required to complete the set, and all of them are Witch Doctor-restricted.
Set Bonus:
Big Bad Voodoo now follows the caster and lasts twice as long (2 pieces)
Gain 60% damage reduction for 30 seconds after entering the Spirit Realm (4 pieces)
Spirit Barrage deals 20,000% increased damage plus additional 5% for every 1.00 of current Mana Regeneration per Second (6 pieces)
First bonus causes the area of BBV to follow the Witch Doctor instead of staying where cast. With Jungle Drums rune, the total duration is 60 seconds.
The second bonus applies to Spirit Walk skill in all of its forms, including Spirit Vessel, and lasts for 30 seconds after it ends (not the moment it begins).
The third bonus stacks with itself additively, to a total of 20,000% + +5% for every 1.00 of the current Mana Regeneration per second. With 2.00 Mana recovered per second, the total damage increase is +20,010%. With 42 Mana per second (maximum possible base item bonus), one can expect +20,210% bonus damage. One may also add Kormac and his +7/s Mana recovery bonus here, as well as Spiritual Attunement (1% per second, which does go here) and temporary regeneration bonuses. However, Rush of Essence does not contribute to this effect.
Community content is available under
CC-BY-SA
unless otherwise noted.