Mehtan the Necromancer is a member of the Priests of Rathma and an NPC in Diablo III.
Biography
Mehtan was a student of Xul.[1] Mehtan later acknowledged that he could not surpass his mentor's achievements, but intended to nonetheless bring Balance to Sanctuary.[2]
The Restless Sands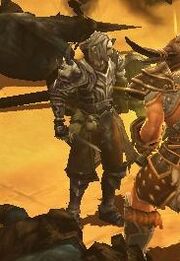 By 1285, Mehtan held the rank of Master Necromancer. The same year, he was in the Stinging Winds near Caldeum. Powerful spirits haunted the ruins in the area, but he was not powerful enough to defeat them (though he was able to track them). He feared that the Coven would try to use the spirits to further their goals.
Mehtan explained the situation to the Nephalem, instructing them to find and confront the spirits. The nephalem succeeded, and aided Mehtan when the Coven attacked. Mehtan could thus begin the work of freeing the spirits, though he feared the Coven would find other sources of power to exploit. Regardless, he bid his ally farewell.[3]
The Necromancer's Choice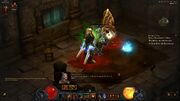 The Nephalem later encountered Mehtan in Westmarch. He was there to fight Malthael's Reapers by summoning them with a beacon, which the Nephalem activated. After defeating the Reapers, they spoke one last time before Mehtan departed.[4]
In-game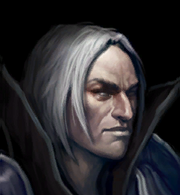 Mehtan can randomly be found in the second act of Diablo III at the Stinging Winds. He initiates "The Restless Sands" event. In it, he and his skeletons will fight alongside the player if foes are near enough. At the end of the quest, he will drop his log. If player character is a Necromancer, they will recognize Master Mehtan.
Mehtan also has a chance of appearing briefly in Act V at the Hall of Dark Arts in Westmarch Commons. He starts "The Necromancer's Choice" event. At the end of the event, he will uncurse a radiant chest, allowing the Nephalem access to its contents.
He is referenced in flavor text of the Canem Mortem Liber.
Trivia
According to Heroes of the Storm, Mehtan was Xul's only apprentice. According to Diablo Immortal however, Xul had at least one other apprentice named Lethes.
In the earlier versions of the game, Mehtan appeared in Caldeum by himself (in the flesh), but as of recent update, he summons his transparent astral projection instead.
References