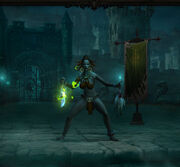 Manajuma's Way
(previously Manajuma's Ornaments) is a
Witch Doctor
minor weapon class 
set
in
Diablo III
.
This set is named for Manajuma, a Witch Doctor clan chief.
The set requires a character level of 60 to drop.
The set consists of just two items, both of which are required to complete it, and both are Witch Doctor-restricted.
Set Bonus (2 pieces):
Angry Chicken explosion damage is increased by 400% and slain enemies trigger an additional explosion.
Angry Chicken now lasts 15 seconds and movement speed as a chicken is increased by an additional 100%.
This bonus means that damage of the Chicken form is effectively quintupled, while movement speed can go up to 250% before any other bonuses. The on-death explosion effect can chain repeatedly, making Angry Chicken most effective against hordes of weaker foes.
For maximum effect, one may couple this set with Spirit of Arachyr.
Development
Edit
This page contains obsolete content
This article contains information that is no longer relevant to gameplay, but is kept here for informational purposes.
Pre-2.3 Set Bonus (2 items):
The poison cloud dealt 200% damage as Poison per tick to enemies within 10 yards, ticking every 0.5 second, that is, 400% damage per second.
Community content is available under
CC-BY-SA
unless otherwise noted.