Mana Shield is a spell in Diablo I.
General Information
Edit
Mana Shield is a protection spell that allows Mana to be drained instead of health on any damaging hit. In Diablo I, Spell Level does not upgrade it; Mana cost does not change.
Regardless of spell level, all damage taken is cut down to 2/3 of total damage the character would normally suffer, giving a Sorcerer's Mana a better "effective Life pool" than Life bonuses from equipment ever will. The effect is dispelled whenever the player enters a stairwell or a portal, or when their Mana runs out (even if one uses a Mana potion afterwards, the effect will have already disappeared). A small bubble is displayed above the character while this spell is active.
A Sorcerer's repertoire of spells should always include Mana Shield; without it, they are too frail to be of any good against the minions of Hell.
A Magical Shrine casts Mana Shield on the player, free of Mana cost.
Bug: While under the effects of Mana Shield, if the damage that a character takes from a hit is greater than his maximum Life, any stun and/or knockback effects that would have applied are nullified.
Damage reduction in Diablo: 33%
Damage reduction in Hellfire: Bugged until Patch_1.07_(Diablo_I). The spell is supposed to increase the damage reduction with increasing Spell Levels, but actually does the opposite. Formula: 100/(3 x Spell Level)%, the maximum spell level is 7.
Duration: Infinite, unless Mana drops to zero, or the character leaves the current dungeon level.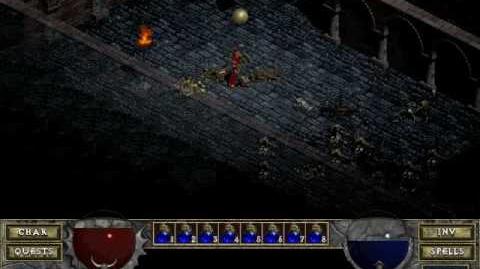 Community content is available under
CC-BY-SA
unless otherwise noted.