Malthous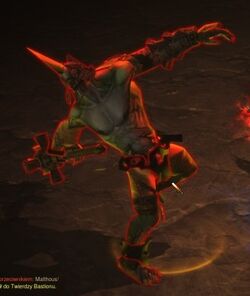 Malthous, The Smith of Sin, is a Unique Dark Berserker found in level 1 of the Arreat Crater in Act III of Diablo III. He spawns for the Anvil of Sin unmarked event, as the third and final wave, and must be killed to complete it.
In combat, he has Molten and Knockback affixes.

This section contains facts and trivia relevant to this article.
In demonology, Malthous (also called Halphas or Malthas) is an earl of Hell, manifesting as a hoarse-voiced stork. He has the power to generate war towers ready-furnished with weapons, to move armies to assigned places, and to destroy cities and towns with fire.
Community content is available under
CC-BY-SA
unless otherwise noted.