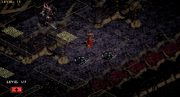 Level 13 is the first Hell-style level in the original Diablo. The player(s) reaches Level 13 after from a stairway in Level 12. Somewhere in Level 13 there is a stairway to Level 14.
Upon entering Level 13, the character mentions, "I must be getting close".
Overall, this level represents a clear step up in difficulty.
Accesses
Edit
Tristram (a shortcut (a stairway) can be found on this level that leads straight back to town)
If available, the following quest can be done or initiated in Level 13:
By reading Steel Tome (which is located somewhere on this level), a quest called Warlord of Blood starts; the completion of this quest will grant the passage to a stairway leading to Level 14 (which in game without this quest can be accessed like any level before this).
Bestiary
Edit
The following monsters can be found in Level 13:
Community content is available under
CC-BY-SA
unless otherwise noted.