"I often use other games as examples of why story is important, even in an action games. Sadly few games really love to tell stories. The word around the office is that Diablo III is 'action with a capital A.' Lately, though, it seems like people are looking for more story in genres that aren't necessarily known for being story-driven. People are ready for us to take Diablo III to new places rather than make Diablo all over again."

— Leonard Boyarsky(src)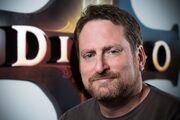 Leonard Boyarsky is an American computer game designer and visual artist. He was employed at Blizzard Entertainment as lead world designer for Diablo III,[1] working on the story and the RPG elements of the game.[2]
Boyarsky holds two degrees in illustration – a Bachelor of Arts from California State University, Fullerton and a Bachelor of Fine Arts from the Art Center College of Design. In his spare time, he consumes books, games, and movies at a rapid pace.[3]
Boyarsky worked at Interplay Entertainment Corp. and Troika Games, working on RPGs such as Arcanum: Of Steamworks, Magick Obscura[3] and the early Fallout games.[4] Prior to joining Blizzard he was familiar with the Diablo series and enjoyed the games, but was not a "hardcore" fan, as he preferred games with a heavier story focus.[1]
Boyarsky started work at Blizzard in January 2006, receiving the position of lead world designer for Diablo III.[3] He has stated that what drew him to the project was "the franchise's untapped potential for storytelling."[1] Boyarsky was involved in developing and implementing the lore and story of Diablo III.[3] This included at least one re-write of a third of the material he had created, and other reworking of the storyline based on the imput of the art and development teams.[1]
Boyarsky continued his work on Diablo III: Reaper of Souls. His work also included expanding the history and themes of the franchise.[3] He departed Blizzard in 2016 to join Obsidian Entertainment.[5]
The Boyarsky's Chip Legendary Gem is named after Leonard Boyarsky.
Community content is available under
CC-BY-SA
unless otherwise noted.