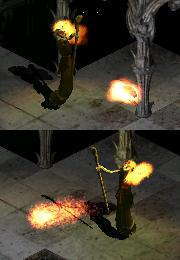 The Life-Leech Ball or Life Steal Missile is the signature move of the Vampire Undead.
It looks and behaves similar to a Fireball, and since Vampires also cast Fireballs, it is easy to not notice the difference. The skills can be most easily identified by the projectile. The Life Steal Missile resembles a burning skull and causes the red life-stealing vortex to appear over the Vampire on a successful hit, whereas the Fireball is a sphere of fire and does not absorb life.
Mechanics
Edit
The caster throws a fireball-like missile towards the player or his minion/hireling that drains some Life and replenishes the caster's, as if a player had used a Life-stealing weapon. This skill can be considered a reference towards the mythical Vampires that consumed their victims blood to survive, except that they take it by a spell and not by biting their victim.
Community content is available under
CC-BY-SA
unless otherwise noted.