Kyla
is a little girl and resident of
Westmarch
.
Despite her age, she valiantly (although to little effect) defended the house she was holed up in and her friend from the Reapers. With the aid of the Nephalem, they both escaped to the Survivors' Enclave. She never returned the sword she "borrowed" from him, though.[1] She is the daughter of Hansen Haile.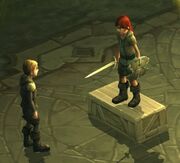 Kyla is found in Captain Haile's House during the "Hide and Seek" event.
After the event has been complete at least once, Kyla can always be found in the Enclave, playing around (directly to the south from Shen's cart, where the preaching madman used to be). If approached, she will exclaim "Papa!" happily, or just chat with the small boy (mostly about how awesome she is compared to him). Near the end of the act, Kyla is reunited with her father, who tells the children that the Reapers have been cleared out of Westmarch and will soon be eradicated completely.
Kyla's friend initially appears in Bastion's Keep, where he can be spoken to about the death of his parents and his fear of the possible end of the world. After a pep-talk from the player character, he becomes more courageous and vows to become a great hero like the player when he grows up. He'll probably need a different sword, though.
References
Edit
Community content is available under
CC-BY-SA
unless otherwise noted.