"Have you heard of the great barbarian elder Kanai? Silly me, of course you have, he was your people's best hope for the future; and the final one, as it turns out."

—

Abd al-Hazir(src)
Kanai was the chief elder of Sescheron at the time of the city's fall.
Biography
Edit
"It is strange they have placed Kanai's corpse on the Immortal Throne, as he died before he could be crowned king."

—

Abd al-Hazir(src)
Kanai was a member of a group of guardians whose history stretched back to the Dark Exile. The Horadrim had entrusted an artifact of great power to the Barbarians, and they kept it safe. Kanai was one such guardian, and would be the last to bear the artifact. He called it his "greatest treasure."[1]
Kanai at some point claimed the axe of the demon L'Anzuul, which was buried with him.[2]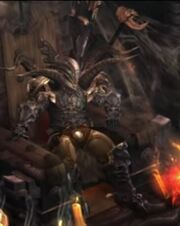 Kanai was much loved by his people. Prior to his death, he was considered to sit upon the Immortal Throne, an honor that had only ever been bestowed upon two others, including Bul-Kathos himself. However, this did not come to pass, for in the Siege of Sescheron, Kanai led his people in the defense of the city against Baal and his army in a maneuver that turned out to be suicidal; the city was lost, and Kanai with it.[3] Despite Kanai's death, his spirit remained in the mortal realm due to the destruction of Mount Arreat and the Worldstone. He was thus doomed to stand eternal vigil over his home and greatest treasure and awaited powerful and honorable individual to whom he might pass on his task. Such an individual came in the form of the Nephalem.[1]
Upon death, even though he was not crowned king yet, Kanai was placed upon the Immortal Throne. Abd al-Hazir, if taken to this location, will remark how unusual that is.
"The spectral form of Chief Elder Kanai rises from his seat and beckons you to follow him as he opens up a mysterious portal. For the month of March, those who pay their respects to Elder Chief Kanai will find they can tag along with him on one more adventure."

(src)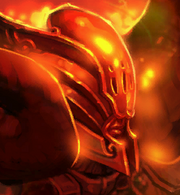 Kanai's spirit is seen in the Elder Sanctum in Diablo III, as players seek out Kanai's Cube. His body, almost intact, can be found sitting on the Immortal Throne, and Kanai's Scorn, the signature weapon of the Chief Elder, can be found nearby in a Mysterious Chest during March of each year.
There is a special event surrounding Kanai in March of each year.[4] When approached in March (and March only), he will awaken, leave his body, and open the portal to Kanai's Stomping Grounds, fighting hordes of Infernal Bovines alongside the Nephalem during the Udder Cowlamity event.
In combat, he uses a special stomp attack that creates a lava pool similar to that of Hellfire Ring. Once the battle is over, he will depart and enter his body again.
Development
Edit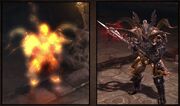 Kanai's effects were designed by Neal Wojahn. He designed him as "an orange ghost that was like an embodiment of Barbarian fury." His appearance mirrors that of the Barbarian character of Kevin Griffith, as a form of tribute to his memory.[5]
References
Edit
Community content is available under
CC-BY-SA
unless otherwise noted.