New Pokemon Games - The Loop
Play Sound
Kadala is a member of the Horadrim.
Gameplay
In Diablo III, she provides gambling services in the game's Adventure Mode. Blood Shards are used to purchase unidentified items from her.
Most of the time these items will be magic or rare, with 10% chance to roll a legendary, regardless of difficulty or magic find. Set items can drop too.[1] She does not sell items that are only found in Horadric Caches, but will sell Torment-exclusive items.
Prices in the store:
Weapons: 75 Shards regardless of type.
Armor, Off-Hand items, Shields: 25 Shards regardless of type.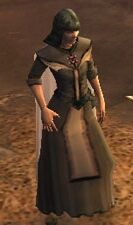 All of the above can be bought in class-specific variations, if any, but that is randomly determined: for example, purchasing a weapon has a chance to award any type the character can use, including class-specific weapons. Smart Loot always kicks in, tuning affixes to match the class of the buyer (unless they buy an item they cannot use).
Development
This page contains obsolete content
This article contains information that is no longer relevant to gameplay, but is kept here for informational purposes.
Originally Kadala was selling items cheaply (5 Shards per armor, 10 per ring, 20 per amulet and 15 per weapon), with 0.5% (1.5% after several patches) chance to get a Legendary or Set item.
In patch 2.1.1, this was changed: prices increased dramatically, blood shard costs are 5x as high, but the chance to get a legendary from Kadala is now 10%. The drop rate of shards has been raised as well, for the same number of shards as before players will now walk away with 1/3 more legendary items on average.
Prior to Patch 2.1, she always referred to items she sells in a taunting manner (for example, calling her merchandise a "good paperweight, for which you can find a use... someday"). However, she was originally supposed to congratulate players on winning a Legendary/Set item, and does so as of 2.1.
Trivia

This section contains facts and trivia relevant to this article.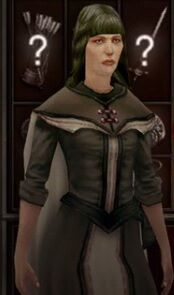 Kadala is revealed as Gheed's daughter during a optional conversation with Tyrael and Lorath Nahr, mentioning that she will give the player random items in exchange for blood shards. Nahr specifically mentions them as "overpriced garbage," possibly referencing players' thoughts about gambling services in Diablo II.
Occasionally, Tyrael will remark that Lorath Nahr is staring at Kadala and inquires why. Lorath simply states that he's suspicious of her, although this conversation might also suggest that he hides a mild attraction to her.
Every season has an objective, awarded for spending Blood Shards at Kadala's, called "Hey There Kadala", possibly referencing the song Hey There Delilah by the Plain White T's.
References