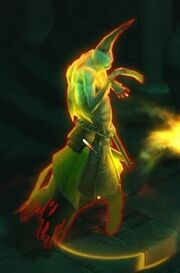 Josh Mosqueira, Rift Boss is a Unique Dark Thrall found in Development Hell, and a Rift Guardian in form of a greatly empowered Punisher in Diablo III.
Development Hell
Edit
He has Electrified and Vortex affixes in combat.
Upon death, he has a chance to drop Second Quinquennial Sword.
Nephalem Rift
Edit
On very rare occasions, he can spawn in a Nephalem Rift, being buffed accordingly, as a monster or as a Rift Guardian. The chance is even lower than that of encountering the Lord of Bells. He is the only Unique monster that can be summoned in a Nephalem Rift through Nemesis Bracers.
In combat, he has Wormhole and Orbiter affixes, his title will be changed to Reaper of 'Soles (consoles).
Upon killing him, a Mosquito Swatter achievement under the Feats Of Strength category is unlocked.

This section contains facts and trivia relevant to this article.
This monster is named after Josh Mosqueira. As with Jay Wilson, there is a feat of strength achievement for killing him (as the rift guardian).
Community content is available under
CC-BY-SA
unless otherwise noted.