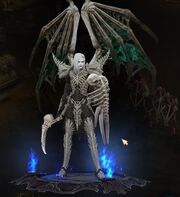 Jesseth Arms is a Necromancer minor class Set for Necromancers in Diablo III, obtainable at level 70. It can only drop on Torment difficulty.
The set is named after Necromancer Jesseth.
The set consists of two pieces. Both are required to complete the set.
Set Bonus (2 pieces):
When the target of Command Skeletons dies while Command is active, Skeletons are automatically Commanded to attack a nearby target. In addition, while Skeletons are Commanded to attack a target, deal 400% increased damage.
This set makes Skeletons retarget their Command to the closest enemy within 60 yards of the Necromancer, dashing to it, whenever their Command target dies. This does not require any additional action and does not cost Essence until Skeletons run out of enemies to target. If there are no enemies in range, Skeletons will wait for 1 second before the free Command is lost, and must be cast anew.
In addition, while Commanded, all attacks and minions will deal increased damage.
This set works best with Bones of Rathma, and visually matches it, but can be made to work with any minion build.

This section contains facts and trivia relevant to this article.
This set's shield is visually reminiscent of the Bone Shield in Diablo II, and it can be used or transmogrified by other classes, being the only such Necromancer set item.
Prior to patch 2.6.9, the second bonus used to only empower the minions, but not the Necromancer's own attacks.
Community content is available under
CC-BY-SA
unless otherwise noted.