Jamella is a resident of the Pandemonium Fortress.
Biography
Edit
To Hell and Back
Edit

Jamella was present in the Pandemonium Fortress when a group of mortal heroes arrived, continuing their pursuit of Diablo. She had serious doubts as to whether the mortals could defeat the Lord of Terror, but kept them to herself.[1] Her doubts were unfounded however, as the mortals successfully defeated their foe.[2]
Reaper of Souls
Edit
"The fortress has changed since then. Its new master did not suffer our presence for long."

—

Jamella(src)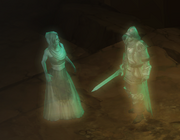 Jamella and Halbu were present in the Pandemonium Fortress when Malthael took over and made the Fortress his own. The Angel of Death did not abide their presence for long, and killed both of them along with the other major residents of the Fortress. Jamella and Halbu's ghosts were encountered by the Nephalem, and they aided the hero in undoing the evil done to the souls of the people of the fortress.[3]
Diablo II
Edit
Jamella is one of the two NPC merchants found in the Pandemonium Fortress of Act IV. Like her counterpart Halbu, she speaks very little, never offering advice or opinions on any quests. Jamella's only words are spoken, and selected from a variety of short phrases. She offers one each time a particular character returns to town.
Despite her near-silence, Jamella is a very useful NPC. She sells a few types of armor, while specializing in bows and magic-user weapons; staves, wands, and scepters. She also deals in potions of all types, and scrolls/tomes. Jamella is also the gambling NPC in Act IV, and the healer as well.
Quotations
Edit
"Hail to you, Champion."
"What do you need?"
"Greetings."
Diablo III
Edit
She appears as a ghost in Act V of Diablo III.

This section contains facts and trivia relevant to this article.
Jamella has an interesting at-rest animation. She reads from a book, concentrates for a moment, then sketches a glowing runic word in the air. They aren't legible letters in English or any other language. Diablo fans have tried to decipher those letters, but the official word from Blizzard was that they are meaningless; they're just some symbols the artist made up.
There are several unused voices for Jamella with the same lines, but in much softer, 'girlish' tones rather than her unamused voice.
References
Edit
Community content is available under
CC-BY-SA
unless otherwise noted.