Ivgorod, City of the Patriarchs[1] is the walled,[2] snow-capped capital of the now destroyed nation of Ivgorod.[1] Surrounded by mountains,[3] it is ruled over by the Patriarchs, who enforce the worship of the Sahptev faith.[1] It is bordered by the Gorgorra forest to the south,[2] and the Dreadlands to the west.[4]
With the coming of the Fallen Star, Ivgorod was gripped with paranoia.[2] The Patriarchs responded by sending one of their best to investigate.[5] A few months later, the city was attacked by the Reapers. Four of the Patriarchs were slain before Malthael was defeated.[6]
Known Locations
Trivia

This section contains facts and trivia relevant to this article.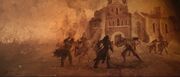 The name "Ivgorod", or Ивгород in Russian, is an example of Sanctuary's monks being a thematic fusion of Orthodox monks and East Asian monks. Gorod is a typical ending for Russian cities, historically denoting a fortress but today translating simply as "city." Iv is likely from Ива (Iva), or Willow, or perhaps a shortened form of Иван (Ivan, or John). There is an Ivangorod in the Russian Federation.
References