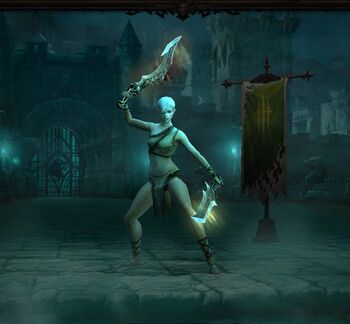 Istvan's Paired Blades is a Reaper of Souls minor weapon set in Diablo III. The set requires character level 70 to drop.
This set is named for Istvan, a master swordsman.
It is oriented at Barbarians and Monks, up to the point that if the set must be completed, it will be by their hands; nobody else can dual wield swords. As such, it may serve as an easier-to-obtain alternative to class weapon sets of those two classes: Bul-Kathos's Oath and Shenlong's Spirit.
Pieces
The set consists of just two items, both of which are required to complete the set.
Set Bonus (2 pieces): 
Each skill that spends primary resource grants 6% increased attack speed, damage and Armor for 5 seconds. This effect stacks up to 5 times.
Community content is available under
CC-BY-SA
unless otherwise noted.