Raise a Floppa - The Loop
Play Sound
Isendra was a Sorceress, notably one of a group of heroes who defeated the Prime Evils.
Biography
Isendra was born in the year 1246. She was noted to be peerless in her magical ability,[1] though had limited actual experience.[2]
To Hell and Back
Firefly
Isendra tutored Li-Ming, and despite their protests, they were both watched closely by the Mage Clans' elder Valthek. However, Isendra started to ignore the Clans' orders, acting in the interests of the people around her, discarding the warnings. Eventually, the Clans had grown concerned over her growing arrogance and willingness to turn to forbidden magics.
At one moment, Isendra tried to stop the drought (much like one day Li-Ming did for the people of Lut Bahadur). However, she lost control of her own spell, resulting in death of many denizens of the desert to the east of Caldeum. Immediately afterwards, a Viz-Jaq'taar Assassin killed Isendra. The state of her body and surroundings showed that the sorceress did not go down without a fight.
The truth about her death was not revealed to Li-Ming, although she figured that the Mage Clans had something to do with it.[1]
Reaper of Souls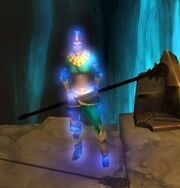 Isendra's spirit wound up in the Pandemonium Fortress. The spirit of Master Necromancer Ordan instructed her (and others) on how to provide aid to their allies. Isendra was visited by her former student, whom she instructed on how to obtain the power of death. Isendra revealed that it was indeed a Viz-jaq'taar assassin who killed her, but she did not know who ordered the assassination, nor did she care. All she wanted to do was to be freed from Malthael's grasp. To at last know true death. Isendra explained that it did not frighten her, believing that she would at last know true peace.[3]
In-game
Diablo II
Isendra is the canonical representation of the Sorceress class from Diablo II,[4] though in the game itself, her namesake, customization, etc. is still player determined.
Diablo III
The Light of Grace Source item bears Isendra's namesake in its description.
In Act V, if the player is playing a Wizard, Isendra appears as an NPC in the Pandemonium Fortress. The Wizard (regardless of gender) recognizes her as his or her mentor.
Isendra may be asked about how she died, to which she will reveal the truth about being killed by a Viz-Jaq'taar assassin, but to who ordered her death, she replies that she actually does not know, and does not care. Other questions include the matters of afterlife, and standard discussions about Malthael. The player may also tell her that she is missed.
Trying all dialogue options with her unlocks the Firefly achievement.
Video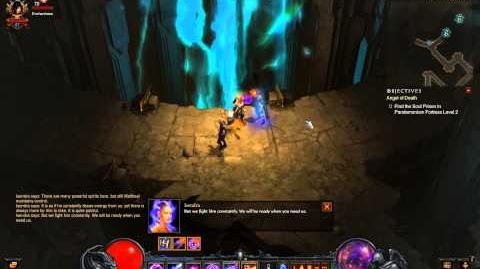 References