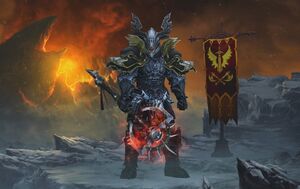 Immortal King's Call (previously Immortal King's Legend) is a Barbarian class item set in Diablo III. It requires character level 60 to drop, and only drops at Torment difficulty.
Other classes may equip most of its items, but overall, it is designed for Barbarians.
The set is named after the Immortal King Worusk.
The set consists of seven pieces, six of which are required to complete it, and two are Barbarian-only.
Set Bonus:
The last bonus is multiplicative to other modifiers, greatly increasing all damage done both by the Barbarian and his Ancients. With proper gear, it allows the Wrath of the Berserker to last 100% of the time in intense combat (like the old Thrive on Chaos rune).
The Fury spent for the second bonus does not have to be expended in one cast; basically, it can be spent in unlimited amount of time.

This section contains facts and trivia relevant to this article.