Immolation Arrow is an Amazon Skill in Diablo II.
Lore
Hefaetrus will sometimes bestow this ability to his greatest champions. These fire-instilled arrows burn with such a fierce intensity that the very earth surrounding where they impact ignites into flame. Although the fires last but a few moments, some say the effect is as if the pillars of the mighty kingdom of Hefaetrus were reaching up through the ground to strike down the enemies who linger nearby.
General Information
Synergies
Gives synergy to : None
Receives synergy from :
Immolation Arrow is the third and final skill in the Fire-based arrow attacks for the Amazon. Upon contact with an enemy, it explodes and leave behind a small conflagration which damages any monster that stands in or walks through it. Like Exploding Arrow, external fire damage from equipment are added to the explosion. However, this skill has a cooldown timer of 1 second, so it's impossible to spam this skill like one can with Exploding Arrow. Despite this limitation, Immolation Arrow's high damage significantly wears down monsters who are not immune to fire, especially when there are minions or other characters who can prevent foes from moving.
Immolation benefits greatly from Pierce: every subsequent enemy it hits causes the arrow to explode and create an additional area of fire. 
Skill Progression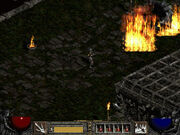 Damage Radius: ~3 yards
Fire Duration: 3 seconds
Level
1
2
3
4
5
6
7
8
9
10
11
Attack Bonus
30%
39%
48%
57%
66%
75%
84%
93%
102%
111%
120%
Fire Damage
13-25
26-38
39-51
52-64
66-78
79-91
92-104
105-117
130-143
156-168
181-193
Burn Damage
(per second)
8-10
14-16
19-22
26-29
32-35
38-41
44-46
51-53
57-59
63-65
69-71
Mana Cost
6
6.5
7
7.5
8
8.5
9
9.5
10
10.5
11
Level
12
13
14
15
16
17
18
19
20
Attack Bonus
129%
138%
147%
156%
165%
174%
183%
192%
201%
Fire Damage
206-218
232-244
257-269
282-294
308-320
345-357
382-394
420-432
457-469
Burn Damage
(per second)
76-78
82-84
87-90
93-96
100-103
106-108
107-110
112-114
118-120
Mana Cost
11.5
12
12.5
13
13.5
14
14.5
15
15.5