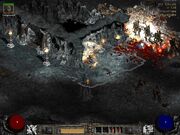 Icy Cellar
Act
Act V
Quests
None
Monsters
Frozen Abyss,
Stygian Harlot,
Prowling Dead
Uniques on Normal
Blood Tempress,
Death Brigadier,
Frozen Abyss
Monsters - Nightmare,Hell
Abominable,
Hell Tempress,
Frozen Terror,
Undead Stygian Doll
Guest Monsters
Hell Lord,
Pit Viper,
Gloam,
Gloombat,
Ghost,
Siren
Uniques and Champions Quantity
0-1 (Normal)
3-4 (Nightmare)
6-8 (Hell)
Super Unique Monsters
Snapchip Shatter
Adjacent Zones
The Ancients' Way
Area Level Normal
29
Area Level Nightmare
62
Area Level Hell
85
Waypoint
No
The Icy Cellar is a dungeon reachable from The Ancients' Way.
It contains the Super Unique monster Snapchip Shatter. The entrance to it is guarded by champion monsters.
Development
This area is called "Glacial Caves Level 2" in the files.